All professionals at Smile Dental Group maintain the highest levels of accreditation and pursue ongoing education to stay abreast of the latest trends in the medical field. Read on to learn more about our staff's experience and training.
---
Dr. Julian Basha
Dentist
Dr. Basha has been in the dental field for over 10 years. He graduated with Honors and earned his Doctor of Dental Medicine from Boston University Henry M. Goldman School of Dental Medicine. Dr. Basha strongly believes every patient deserves the best treatment dentistry can offer, and that it is his professional responsibility to offer the best treatment plan to all his patients.
Dr. Basha is committed to treat his patients like his own family and is a great believer that Continuing Education is of paramount importance in order to achieve the best for his patients.
Dr. Basha has a great passion for cosmetic dentistry and dental implantology. He strongly believes that dental implants are a huge benefit and improve the life of every patient.
He believes helping people look and feel better is a privilege, and is committed to provide outstanding general dentistry care, treating each and every patient with compassion, concern, and honesty all in a professional manner.
"Working with patients is both challenging and rewarding at the same time. Each and every patient is unique in their background or their life story. Some patients just want to be heard—listening and treating them is one of my favorite things. I enjoy the spirit of compassion, community, and high professional standards and cutting-edge technology."
Dr. Basha resides in the Northborough area, and in his free time he enjoys reading, traveling, playing golf and spending time with his lovely wife and his two children.
Dr. Basha is a member of:
Academy of General Dentistry
American Academy of Implant Dentistry
American Dental Association
Massachusetts Dental Society
Worcester Dental Society
---
Dr. Yajun Cui
Orthodontist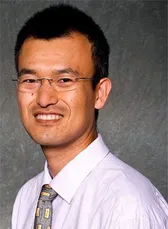 Dr. Yajun Cui completed his orthodontic training at Harvard School of Dental Medicine and previous to that his doctorate at Case Western Reserve University, School of Dental Medicine. Dr. Cui has completed his Ph.Ds. on Biochemistry and Molecular Biology at University of New Hampshire.
Dr. Cui is specialized in child and adult orthodontics and is proud to offer patients both interceptive (phase I) and comprehensive orthodontics treatment using metal braces, clear ceramic braces, and Invisalign.
Dr. Cui is a member of:
American Dental Association
American Association of Orthodontists
---
Dr. Chiang
Periodontist
Dr. Chiang graduated with an undergraduate degree from Rutgers University with a double major in Physiology Neurobiology. She graduated from the dental school at Columbia University, New York City and she holds a postgraduate degree in Periodontics M.S. from Columbia. For a year after graduation, she worked in the Big Apple than moved to Massachusetts where she worked in a group practice for 7 years. Dr. Chiang is married with two children's and in her free time she loves to travel and visit exotic countries.
Dr. Chiang is a member of the following societies and associations:
American Academy of Periodontology
Northeast Society of Periodontics
Academy of Osseointegration
American Dental Association
Massachusetts Dental Association
Massachusetts Periodontal Society
---
Alba
Office Manager and Patient Coordinator
Alba has been in the dental field for over 6 years. Alba has completed her medical training in Albania and wishes to pursue her degree in US and help patient in any manner possible.
"Patients deserve the best and it's our duty to help them in every manner possible."
Alba loves to read, cook and travel besides spending time with her to lovely children's Lucas and Lianna.
---
Marta
Billing and Patient Coordinator
Marta has been working in the dental field for over 12 years. She received her degree from Northeastern University. Marta works with insurance companies, posting payments and processing claims. She loves to help patients and makes sure they utilize their dental insurance efficiently. Marta loves to travel, paint and spend time outdoors.

---
Rosana
Patient Coordinator
Rosana has been working in the dental field for over 10 years and has been a team member at Smile Dental Group since 2017.
Rose received her degree and is certified in DANB, OSHA, CPR, and Care Credit. Rose works closely with insurance companies, processing claims, posting payments, and meeting with patients to assist with any insurance issues.
Rose believes that every patient receives the best care possible. Her trust in all of the dental team members stems from the fact that she knows each member is committed to serving every patient with respect, attentive care and thorough dental work.
---
Nicole
Dental Assistant
Nicole is our dedicated dental assistant. Nicole is trained and is certified in four handed dentistry , Radiology, CPR.
Nicole's duties include preparing patients for various procedures, setting up operatorie's, and taking X-rays.
"This is a wonderful place to work," she says. "My co-workers are amazing, as are the growth opportunities and continuing education training provided to the staff. And it's gratifying to see how everyone here goes the extra mile to make sure each patient gets the very best care…and our technology is second to none!"
In her spare time, Nicole likes hiking, reading, and baking with her daughter, as well as spending time with family and friends.
---